This last week (and, YES, I know that it's already Saturday night and ONLY NOW am I blogging. Sorry.) we talked about how the scriptures can help us learn about Heavenly Father and how that can help us teach others about our Heavenly Father.
We really did focus on how we can learn about our Heavenly Father from the scriptures.
Also, since I like to joke that we have someone come into observe just about every other week ... I am going to mention that we had the Stake Sunday School President come to observe our class. No pressure, right? (At least, not for me. You all seemed cool and collected. :D)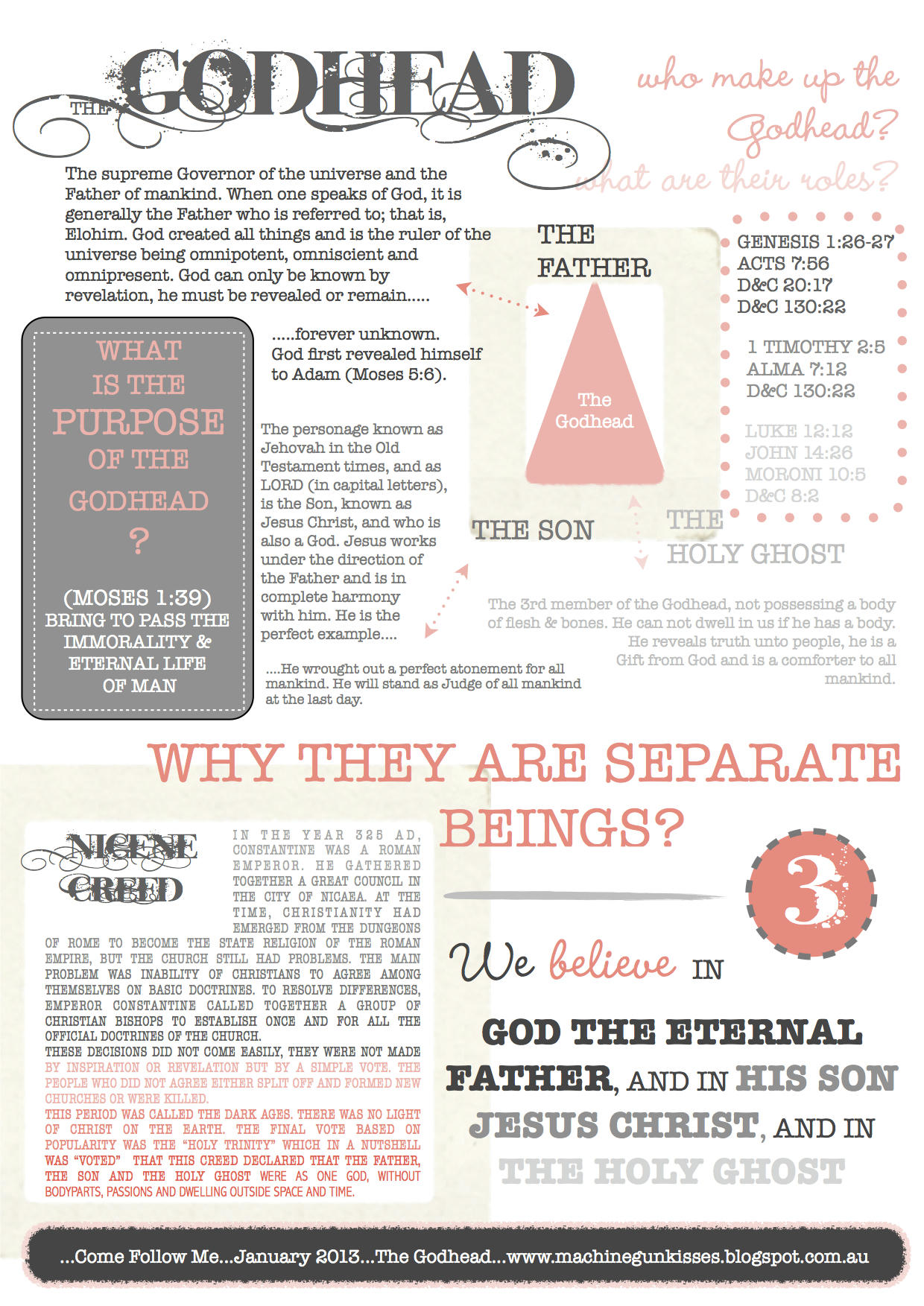 I really love this infographic about the Godhead.
If you need me to print you a copy to put in your scriptures or into a journal, let me know.
Sometimes my Pinterest obsession really pays off!
You all are ahead of the game, knowing that the Godhead is composed of three beings AND who they all are. 50 gold stars to you all!
We mostly talked about the attributes of the Godhead that we can learn about by reading the scriptures.
As Joseph Smith said on the worksheet I gave you at the end of class (
PDF link here
- credit goes to Kourtney at deserethome.blogspot.com, since SHE made it, not me.), "It is the first principle of the Gospel to know for a certainty the nature of God." and "If men [and women] do not comprehend the character of God, they do not comprehend themselves."
It is vital that we learn and understand the nature of God.
We chose to come to earth, to have this mortal experience, so that we can learn and grow and become more like our Heavenly Parents. ... And how can we do that if we don't know what our Heavenly Parents are like?
In fact, Joseph Smith (along with a committee consisting of Oliver Cowdery, Sidney Rigdon, and Frederick G. Williams) wrote Lectures on Faith (if you or your family don't have a book, you can access them on http://lecturesonfaith.com/). I took a great little Institute class about this work ... and I found that reading/studying this really helped me to better understand (1) what faith IS and (2) what God is like, what attributes the Godhead possesses.
I can testify that the more we understand what our Heavenly Father is like, the easier it is to emulate Him. And it's easier, also, to be more like Jesus Christ. And, hopefully, easier to recognize the promptings of the Holy Ghost.
I hope that you're still looking for opportunities to learn about the Godhead. I also hope that you're keeping your eyes open so you can notice those tender mercies of the Lord in your life.
Tomorrow, we're going to discuss "
How does the Holy Ghost help me learn?
"
I hope to see you all there!
Be awesome!
Sister Cox